Sustainability and equity: those are buzzwords thrown around time and again by facilities and planning professionals in the education landscape.
And it's no different for the New York City Department of Education, as the largest school district in the U.S. looks to the future of school planning.
Karin Goldmark, deputy chancellor of school planning and development at the New York City DOE, recently discussed at the K12 Facilities Forum how the district is tackling current challenges and planning the future of its facilities to ensure students have the tools they need to succeed in the 21st Century and beyond.
"Every piece of work you do has an impact today, but think of it as having ripples years and years down the line," Goldmark said. "For those of us in facilities, this is literally true because we have buildings in New York that were built seven generations ago that are being used by children today."

A Sustainable Mindset
Designing and building a sustainable school isn't just about ensuring the facility supports a healthy ecosystem, Goldmark said. It's also about ensuring any future buildings will withstand generations of use and fit within the district's financial means.
"It's very possible that you are literally managing and building buildings that will be used seven generations from now," she said. "Those of us who work with buildings that are old know that they are not all the same, and in our case, some are literally the same, but don't end up operating the same because of a decision someone made 120 years ago."
For instance, Goldmark points to several identical New York schools built in the 1980s.
"In many cases those buildings are the same age and the same design,"she said. "What is the difference between two buildings that are identical in the same city that operate so differently?"
Some of the differences come down to the way the buildings are treated after completion and years down the road. One building may have received routine maintenance, while the other was underutilized and maintenance was deferred.
"We must consider that impact as we make those decisions to defer the maintenance or not, to find the way to invest in maintenance that has been deferred prior to us," she said.
Equity Across the District
Each of the Department's decisions with regard to maintenance, construction and advancement come back to its effort to advance equity within schools and among students.
Goldmark said that equity for the Department means creating an outcome that would be achieved if one's identity no longer predicted, in a statistical sense, how one fairs.
"It's not getting the same thing for everyone, in New York City we can't do that," Goldmark said. "We want to look every student in the eye and say you have odds that work for you and they are not at the expense of someone else."
For NYC schools, addressing imbalances in equity means more investing, leading to the largest capital plan they've ever undertaken.
Today, Goldmark said the district is investing $750 million in accessibly, $750 million in technology and $750 million in new seats to address overcrowding.
"We prioritized accessibility upgrades to existing schools because it used to be the case that subdistricts or areas with overcrowding had accessible schools because they were built since the Americans with Disabilities Act. But underutilized areas didn't meet that because we weren't building there."
In these cases, Goldmark said a family living in an area with an underutilized, non-ADA compliant building had to travel, sometimes far, to get to an accessible school.
"Instead of saying 'sorry you have to be on the bus for one to one-and-a-half hours,' we decided to invest in accessibility for existing schools," she said.
By adding technology infrastructure and additional buildings, the district is also addressing inequity, ensuring that teachers and students are given the proper tools for education today.
"That is one form of inequity," Goldmark said of overcrowded schools. "When you have no art room or no science room because you need those for classrooms. That's a challenge in terms of fairness."
Environmentally Sustainable
As it looks to create new schools, the school system is, of course, keeping its eye on just how it impacts the environment and students' futures.
"The truth is, none of us are doing enough on this issue," Goldmark said of creating schools that are sustainable in the sense they aren't necessarily bad for the environment. "What we are trying to do is mitigation, baby steps."
Those baby steps for the New York Department of Education include an initiative to install solar roofs on as many schools as can support them. But with 1,300 buildings, it's not a quick fix.
"The truth is, none of us are doing enough on this issue"
"If we do 50 projects a year, it will still be a quarter century before having them on every roof in New York City," Goldmark said. "The challenges we face in sustainability are so deep and the need for change is so great that it can lead us to feel some despair."
Still, the district perseveres. In fact, it actually created the first and only net-zero energy school in the city.
The Kathleen Grimm School in Staten Island takes up much more space than traditional facilities within the New York Department of Education. Because of its location on Staten Island, the building is longer, allowing for solar panels across the entire building.
A Long-Lasting Relationship
While much talk has been given to the sustainability of school buildings and equity of the materials inside, Goldmark said that it also happens to be the focus of the way in which the New York Department of Education interacts with the community.
"One plan we've stated to do differently is plan with the community," Goldmark said. "The old approach was to develop a proposal, engage the community and endure the pushback hoping to get the original proposal through."
Today, the district partners with the community, asking stakeholders what they want to see.
"When we develop options and then seek input from the communities, it requires a lot more effort, a lot more time," Goldmark said. "It's not necessarily easy on the front end, but we end up with better support for proposals."
In some cases, especially when the proposal involves consolidating or merging schools, the new approach allows the district to have a more honest conversation with the community.
"The community doesn't feel like we are taking something away and instead we're together looking at problems and solving them," she said.
Building on these relationships is its own kind of sustainability, in a sense of having proposal work that familiarizes education in the community, Goldmark said.
"If we just tell them, they will feel like we are doing an injustice to the community," she said. "If we face problems together, we can say we know we need to serve your child better. How can we get to a place where we can do that from a budget perspective, from a sustainable budget perspective. It's an honest conversation. It's not an easy conversation, but it's a better conversation because we are doing it together."
In the end, Goldmark knows that the school system has been, currently is and will be used by amazing people. Providing them with sustainable tools to learn and succeed is a critical component moving forward.
"Somewhere in your schools there is a Nobel Laureate, a Supreme Court Justice, a great artist or a great scientist," she said. "Someone that is going to invent a solution to a problem we don't even know we have yet."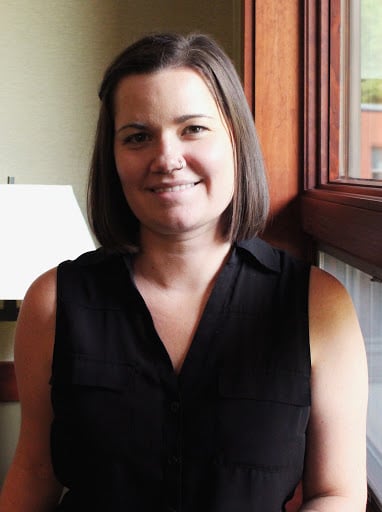 Posted by
Ashlee Kieler is an experienced multimedia journalist based in Iowa. She is passionate about telling stories about healthcare, education, retail and a smorgasbord of other topics.
Join us at the K12 Facilities Forum!
The community for district and facilities leaders
Nov 12-14,2023 | Austin, TX
Learn More