Once seen as a less-than-attractive option for schools, modular's star is now rising in education.
As modular construction shakes its image as a temporary fix for overcrowded classrooms, a growing number of districts are catching on to its benefits. Prefab is being recognized as a permanent solution for schools, especially when working with time constraints and a focus on sustainability. Building components in a controlled factory offers convenience that ground-up construction can't deliver in certain circumstances.
Modular construction in schools also offers benefits in K12 IT departments, with modular data centers boosting flexibility and capacity.
To learn more about the opportunities and challenges of these solutions in both construction and IT, we spoke with High Tech High and Tulare City School District on their decision to choose modular.
A Smart, Sustainable Way to Build
In education, where construction is distracting to both teachers and students, modular offers minimal site disruption.
However, the biggest draw for districts is usually the undeniable time savings.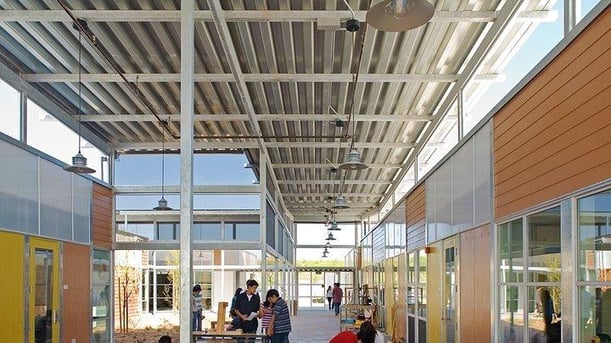 Paul Dooley, Director of Facilities at High Tech High, said a five-month deadline drove his team down the modular route in the construction of High Tech High Chula Vista, an award-winning LEED Gold school.
"By doing your site and foundation work while the buildings are being constructed, you can save four to six months," he said. "For school projects, the schedule is critical. You can't tell parents and the school board you need to delay the school year."
The large amount of site work needed for Chula Vista, including filling a canyon, also pushed the team to opt for modular construction. The project's supplier worked closely with officials on permitted delivery times for the 59 modular units and installed them via a sequential crane set-up process. This both decreased waste and accelerated the timeline.
Challenges of Straying from Conventional Construction
Chula Vista obtained LEED Gold certification and won national environmental design awards, in part due to modular's waste-averse, efficient nature. When asked if LEED certification was more difficult under the modular method, Dooley's answer was no.
"Though the manufacturer wasn't as used to gathering all of the data required, we figured it all out." he said.
Campus design plan for High Tech High Chula Vista
Another adjustment to the process was increasing the level of collaboration between teams, which Dooley believes was critical to their success.
"Our architects, even though they weren't technically the designers, worked with the design team to agree on the end result. We stretched the limits on what had been done before. It went so smoothly because all parties collaborated from the beginning," he said.
Dooley believes creativity with how you use the building structure is also essential since certain creative factors are controlled. In Chula Vista's case, the factory was 100 miles from campus, so the components couldn't be wider than 10 feet for transportation purposes.
"Our architects did an impressive job of making the school look very cohesive. It feels like one building rather than a series of eight buildings connected by the roof," he said.
A large south-facing roof canopy, which not only connects the parts but hosts a photovoltaic array to generate nearly 80% of the school's energy needs, adds to the school's cohesive design.
Interior of High Tech High Chula Vista
Modular Data Centers
Districts are also looking at modular when it comes to solutions for IT. Though historically used in healthcare and the military, modular data centers combat "downtime," an issue increasingly detrimental to learning in today's digitally connected classroom.
Pioneers such as Tulare City School District (CA), Los Angeles Unified, and Blue Springs R-IV School District (MO) have all taken advantage of these solutions, which are lauded for durability and the ability to operate in harsh weather and emergency situations.
Daryl Shelton, Director of Information Services at Tulare City School District, started to explore modular as a solution to the age-old problem of "What to do about data center infrastructure?" The school's previous "makeshift" data center was unreliable and housed in an old converted classroom.
Many districts have asked Shelton why he went for modular construction versus retrofitting a room. He explained that the cost to buy a turnkey modular data center is always less than trying to renovate/build via traditional construction.
"The flexibility in design is probably the largest benefit for the prospective customer of a modular data center, but I would argue the real benefit is the structure itself," he said.
This structure includes security, lighting, air/humidity control, fire suppression, and power distribution/management. Plus, redundant air condensers ensure the environment that equipment manufacturers recommend for "proper" installation.
"This is a big deal for IT maintenance because it reduces instances where equipment is being operated outside of vendor recommendations. Having a self-contained room means that you have finally dealt with this ongoing IT "problem" once and for all," he said.
Shelton's best advice for schools considering a modular data center?
"A frank and honest examination of what your district (as a whole) needs both now and into the foreseeable future," he said. "If security and control are desired, a modular data center makes a lot of sense."
The Future of Modular Construction in Schools
All in all, modular offers a number of benefits, including:
Shortened timelines
Improved safety
Solution to labor woes
Customization (despite popular belief)
Decreased waste & site disruption
Enhanced quality
Reduced change orders
Regarding the future, Dooley is optimistic. He believes that to succeed with modular, it's all about planning for its permanence.
"Districts have to plan for a building they want to look at for the next 30 years," he said. "Historically, districts have planned on keeping modular buildings for five years but end up having them for 15. That perspective has to change."
"In the right situation, we would absolutely do it again," Dooley said. "The industry has evolved enormously, so from a design perspective there are so many interesting innovations on the market."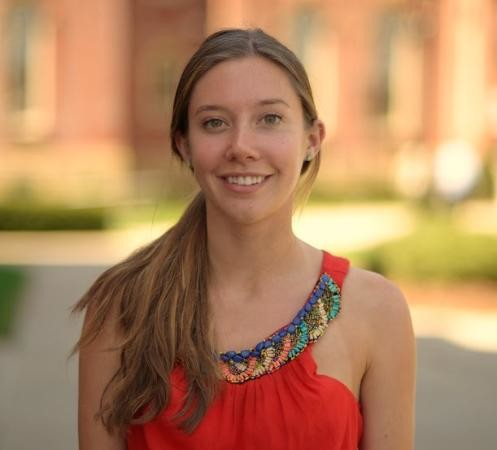 Posted by
Hannah Chenoweth is a writer for influence group. Passionate about collaborating with thought leaders in real estate, design, construction & facilities management.
Join us at the K12 Facilities Forum!
The community for district and facilities leaders
Nov 12-14,2023 | Austin, TX
Learn More