One might guess that the nation's first net-zero energy K-12 school is located in Los Angeles, Silicon Valley, or perhaps New York City. However, the first school to achieve full-scale net-zero status is located in the heart of the rural community of Richardsville, Kentucky--and proves that net-zero pays for itself...and then some.
Instead of receiving a hefty energy bill each month, the district actually gets paid by the local utility for the extra energy they produce. At the K12 Facilities Forum, Mike Wilson, Director of Facilities Management at Warren County Public Schools, discussed the best practices that propelled the district to this monumental achievement...
An Ambitious Goal
For WCPS, the visionary leadership of a forward-thinking superintendent kicked off a district-wide energy campaign in 2012. The superintendent's proposition to enter into an energy program with Energy Education, Inc. (now called Cenergistic) was almost impossible to turn down: all the board had to do was fund the position for an energy manager.
Energy Education guaranteed cost savings above and beyond the cost of the new salary; if they failed to deliver, the board would be reimbursed. The decision to move forward paid off big time. To date, WCPS has saved $11.5 million to funnel into other projects, and all 24 schools in the district are Energy Star schools.
The success of the program inspired the district to think even bigger and strive for the goal of net-zero, which was achieved in 2010 with the opening of Richardsville Elementary School.
In Kentucky, the average cost of 1 kBtu of energy is $2,500--which quickly adds up to an average annual cost of $182,500 for a typical 72,000 sq. ft. elementary school. Richardsville Elementary has achieved 18.2 kBtu's annually, and two other WCPS elementary schools are currently net-zero ready (meaning they have everything a net-zero school has, minus the solar panels).
"In most cases, energy is the number two expenditure for school districts after personnel cost," Wilson said. "We take great pride that Richardsville Elementary doesn't get an energy bill--we actually get a check back. In 2012, we received over $37,000 from the local utility from the surplus energy sent from the solar system to the grid."
Wilson shared the integrated strategies that led to the district's success...
Site Design & Building Orientation
"One of the things we learned from working with our architects if that the orientation of the building helps provide active daylighting solutions, so we can harvest that natural light and reduce artificial use," Wilson said. Other factors involved in the building orientation include:
North/south building orientation to provide active daylighting in academic spaces
Native, drought-resistant landscaping to reduce irrigation
Permeable paving to reduce stormwater runoff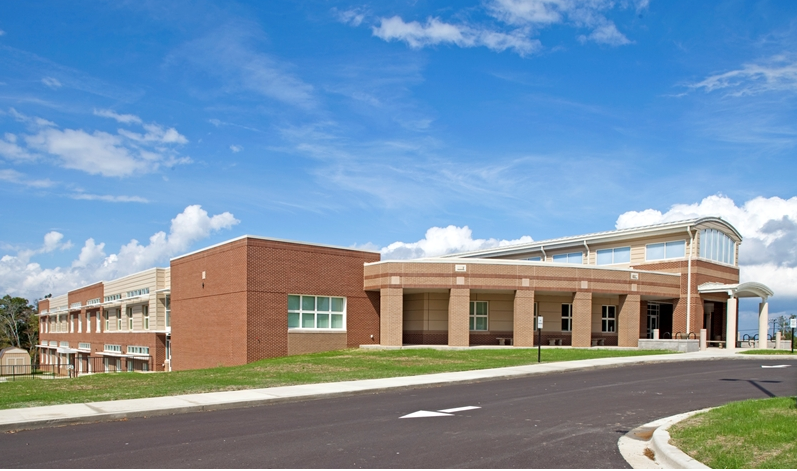 Energy Efficient Systems
During the school's design process, the team had to rethink traditional decisions. The result was energy efficient systems that include:
Compact building volume to reduce the area of exposed exterior surfaces
Super-insulated exterior wall & roof systems
Eliminated external air infiltration
Occupancy sensors
Energy efficient HVAC systems
Dual compressor heat pumps and distributive pumping system to reduce energy demand
Distributive utility metering
High- Performance Thermal Envelope
Data from past projects proved that an efficient thermal envelope can have a significant impact on energy performance. Richardsville was constructed using insulated concrete form (ICF) walls to make the walls nine times stronger and offer far more fire protection and sound insulation, among other strategies which include:
Compact building volume to reduce areas of exposed exterior surfaces
Super insulated exterior wall & roof systems
Reduced external air infiltration
Reduced large mechanical platforms
Daylight Harvesting
Through active daylight strategies, the use of artificial lighting at Richardsville has been greatly reduced. In addition, the roof of the school and a parking shade structure are lined with solar panels that produce more clean energy than the school consumes. Strategies include:
Reflecting natural light back into classrooms
Reduced glare at work surfaces
Automated dimming to reduce artificial lighting requirements
Interior solar tubes to supplement daylight
Sloped ceilings to project natural light into the classroom
Aerogel insulated glazing and low e-coating to reduce solar heat gain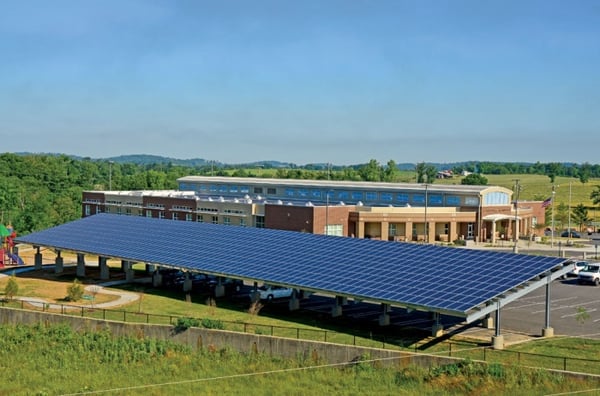 Healthy Kitchen Design
Beyond the technology and systems in place, Richardsville's net-zero success also lies in the team's holistic thinking and creative behavior changes. For instance, the school hosts "Energy-Free Lunch Days" where the oven is turned off all day; this has now spread across the entire district. Additional changes include:
Energy Star Appliances
Elimination of Type I hoods & Type II hoods
Healthy, locally-grown food choices
IT Revamp
IT systems, though known to consume a significant amount of energy, were traditionally left off-limits to energy reduction strategies in past projects. However, the design team petitioned for change. Replacing computer labs with laptop carts and wireless technology ended up reducing power consumption by 50%.
Living Building Strategies & Life Cycle Evaluation
With a focus on reducing life-cycle maintenance costs, strategies include:
24/7 building operation plan
User-friendly automated building control system
Security lighting with motion detection
Life cycle cost evaluations on materials, finishes, and equipment
The Building As a Teaching Tool
"We didn't want to just put our students in a net-zero school and forget about it. Instead, we use the building itself as part of the pedagogy so kids can take these lessons learned out into the world," Wilson shared.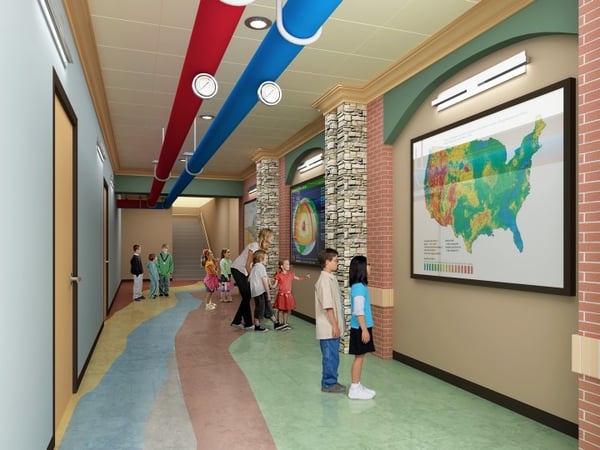 Hallways with geothermal, water, and recycling themes integrate the school's features into the curriculum, and green screens demonstrate the school's daily energy use and teach conservation principles. Students regularly give tours to the visitors of the school and can accurately explain how the solar tubes and the PV system work. Each school in the district also has a team made up of students who monitor consumption and perform energy audits for efficiency.
Wilson closed with emphasizing the value of setting the bar high when it comes to sustainability.
"You build a school one time, but you heat and cool it for next 50 years," he said. "In the long run, a net-zero energy school provides the best value. The community must be able to trust that the board is doing everything possible to reduce energy consumption and redirect those funds back into the classroom."
"We put to rest the statement that 'it simply can't be done,'" Wilson concluded. "If we can do it in Richardsville, it can be done virtually anywhere under the right circumstances."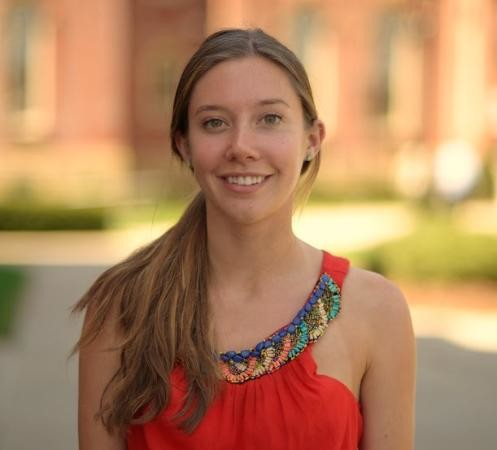 Posted by
Hannah Chenoweth is a writer for influence group. Passionate about collaborating with thought leaders in real estate, design, construction & facilities management.
Join us at the K12 Facilities Forum!
The community for district and facilities leaders
Nov 12-14,2023 | Austin, TX
Learn More