As Alyssa Chapman, at Gordian, kicked off the K12 Facilities Forum town hall, her first question was a big one. Chapman asked, how have leaders been keeping students and staff safe throughout the pandemic?
The group of panelists fielding that question included Karin Goldmark, the now-former Deputy Chancellor of School Planning and Design for the New York City Department of Education; Genard Phillips, Chief of Business Operations for Shelby County Schools in Tennessee; and Jeremy Trimble, Chief Operations Officers for Eanes ISD in Texas.
Goldmark took the lead. It was New York City, after all, that bore the brunt of the COVID-19 pandemic when it first arrived in the United States.
Lessons Learned in NYC
Being the first major area to be hit hard by the first wave of the pandemic, New York City had to learn on the fly and innovate as they went along, Goldmark said. The city's schools were part of the initial shutdowns, which included everything from subways to Broadway shows, but leaders quickly realized that the immense school system was needed in a myriad of ways. Six days after that first shutdown, NYC began opening Regional Enrichment Centers – basically childcare facilities for essential workers like nurses and police officers.



The city opened 178 such centers before streamlining that number to 78. What that allowed, Goldmark said, was for the school system to learn how to reopen their buildings to staff and students in a safe way. Takeaways included how to improve airflow in school buildings, how to encourage mask use without being punitive, and how to bring joy to traumatic situations. They were able to do it in stages, Goldmark said, having gone from serving one million to 1,000 students, setting plans in place before building those numbers back up again.
"My biggest takeaway was that our large public institutions are actually capable of tremendous speed, tremendous decision-making, and tremendous action when it's deeply felt to be necessary," Goldmark said. "The question moving forward is can we bring that same urgency to kids learning to read as we did to the life-and-death questions that we've been facing."
Partnering on Purchasing
While air ventilation and filtration upgrades were a clear priority for each district represented on the panel, supply chain issues threatened to hamper those upgrades, and the ability to purchase any number of supplies in general. For Trimble's district, he said it was soon apparent that in order for them to acquire what they needed, partnering with the larger neighboring districts would help their buying power.
"We had to race right out of the gates to try and get those orders in, to get in front of some of the larger districts. Since then I've had conversations with the larger districts around us so that moving forward, when any of us are trying to buy something, we'll talk to each other first. Because we all need the same things," Trimble said.
Addressing Shortages in the Workforce
Like just about any sector these days, education is faced with its own set of shortages in the workforce. Trimble said that his district has created what he calls a "flywheel team" – a group of 50 to 75 individuals that are in constant contact about workforce needs. Whenever a need arises in the district, the group finds someone internally who can help — even if it's Trimble himself who's stopping through for an hour to help with food service needs in the morning. It's about utilizing the resources and people that they do have.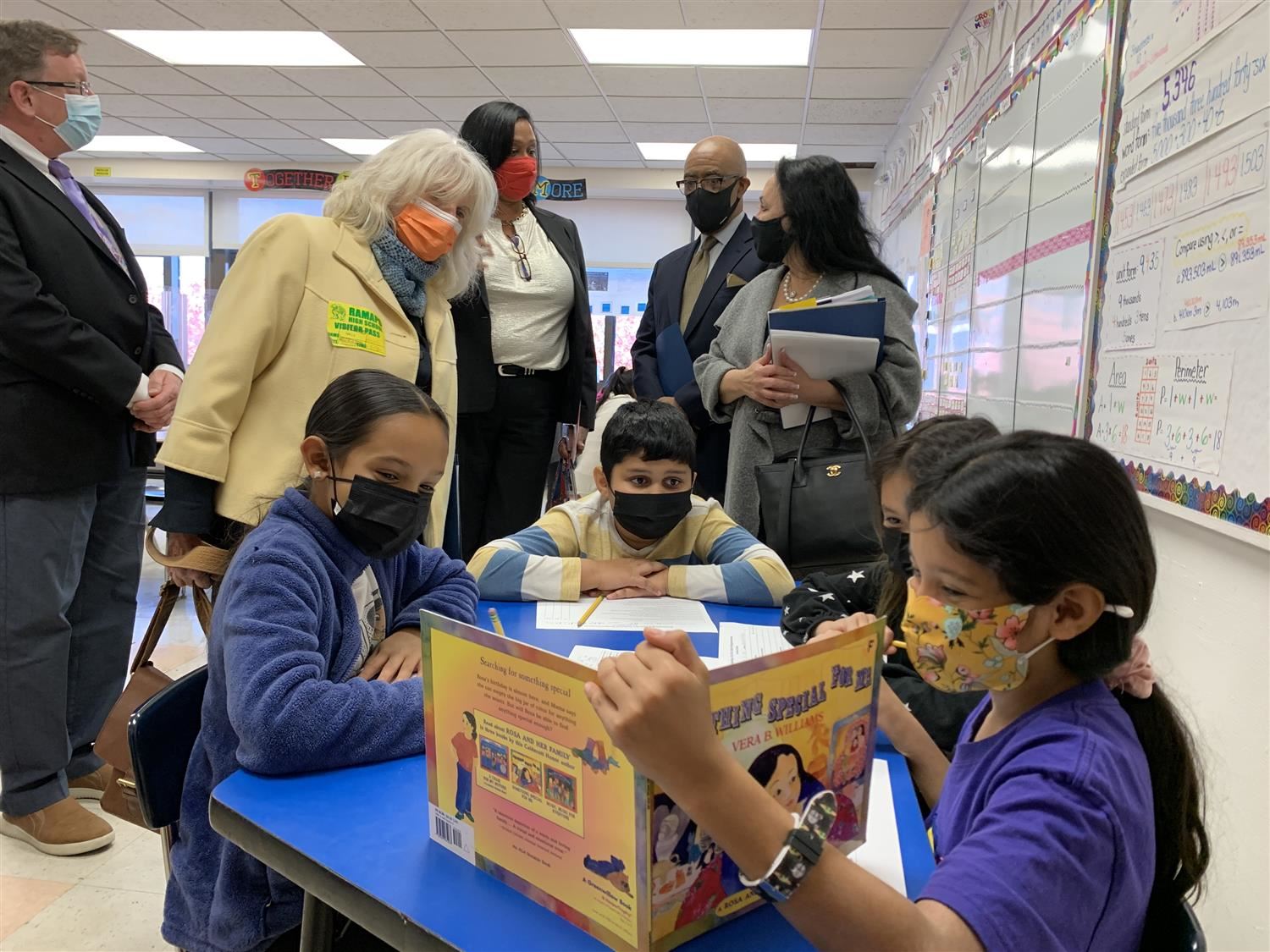 Phillips, whose district includes the city of Memphis, said that they've learned to get creative in how they hire people. If a custodial position only requires four hours per shift, and a nutrition position only requires four hours per shift, the district has been finding workers who can work one shift in the morning and the other in the afternoon. Suddenly, a part-time position becomes a full-time one.
"As we do job fairs, we're talking about part-time positions, but you combine the two of them and now you've got a full-time job and you're sharing the same schedule as your child who may be in the same school," Phillips said.
And though Goldmark and Trimble's districts vary greatly in size, they both discovered that they could fill needs by tapping into people's underutilized backgrounds. Most immigrant taxi drivers in New York City weren't taxi drivers in their home countries, said Goldmark, and likely have skills that you don't know about. Trimble related a story where a bus driver was getting ready to quit. Through conversation, Trimble discovered that the driver had grounds maintenance experience; that person is now the new grounds supervisor for the entire district.
As For the Future…
The COVID-19 pandemic has given way to new methods of instruction and learning, with each of the panelists saying that their districts have tried different ways of teaching classes outdoors. Though the infrastructure for outdoor learning still lags, Phillips said that some teachers have taken it upon themselves to take their students on "walking classes."
And while Trimble expressed frustration at the new trend in "flexible furniture" getting in the way of social-distancing requirements, Goldmark did say that the post-pandemic classroom is likely going to need some aspects of "flexible furniture," with each classroom looking different from the next. When kids are used to learning outdoors and in different rooms of their house, monotonous classrooms will be even more difficult places to hold their attention.
With the proliferation of handheld devices and tablets in the classroom, their ability to serve as distractions is proving to be outdone by their ability to bridge the gap from the classroom to home, said Phillips.
"It can truly extend the time for learning," he said. "I watch my own daughters when they come home and how they're still engaged by having that device. It's different than when they would open up their backpacks, take out their books and do their homework. It's certainly more engaging now."
Posted by
MJ Galbraith writes about real estate and development for a number of different publications. When he's not writing development news, he's writing songs and playing guitar.
Join us at the K12 Facilities Forum!
The community for district and facilities leaders
Nov 12-14,2023 | Austin, TX
Learn More