When it comes to education, ensuring the safety and security of students and staff is more critical than ever. At the K12 Facilities Forum, Alishia Jolivette, Executive Officer of Facilities, Management & Operations, and Wanda Paul, COO of the Houston Independent School District (HISD) presented the district's plan to ensure that all students and staff members feel secure.
They discussed how there isn't a "one-size-fits-all" solution to school safety, but there are common elements and similar approaches that school districts can consider for creating and sustaining a safe and secure learning environment.
Safety Audit and Floor Plans
HISD, the largest school district in Texas and the eighth largest school district in the country encompasses 274 schools, catering to the needs of around 194,607 students and employing 27,044 part-time and full-time staff members, so implementing a new safety plan was a daunting task.
"I assure you we have the same challenges that you have in smaller districts — people and money," said Paul.
To ensure school safety, HISD already conducts safety audits regularly. But for the year 2022, the Texas Education Agency (TEA) mandated that all local education agencies would:
Conduct summer-targeted partial safety audits
Conduct an exterior door safety audit
Ensure all campus staff, including substitutes, are trained on specific safety procedures
Schedule all mandatory drills for the year
Ensure all assessment team members were trained
Review, and if necessary, update access control procedures
This mandate was announced on June 30, 2022 and had to be completed before the start of the 2022-2023 school year. Yes, really.
"All of this had to be done during the summer within a month's time frame with our current staffing," said Jolivette. "There were no options — we didn't have the choice to say, 'Well, we can't get done. We're not going to be able to do that.' It had to be done."
Incorporating the Safety Mandate in Houston
Getting everything done was especially hard in such a decentralized school district where many administrators were used to operating with a lot of autonomy, so getting everyone to work as a team presented a few challenges.
"Everybody wants to be in charge until they don't," said Paul, who had to take charge of the plan.
The new safety mandates required the following:
Updated floor plans for each campus
An overhaul in exterior door numbering to standardize all instructional facilities for first responders (including portable buildings)
Review of temporary buildings and demolition of those deemed unrepairable
Inclusion of technology solutions
Implementation of a school safety committee
The numbering guidelines, for instance, may seem overly complicated and strict, but they are necessary: first responders need to know where they need to go.
Principal expectations sometimes created misunderstandings with the implementation of these mandates. For instance, when demolishing unused buildings, many principals thought they would get a new one to replace it.
They were mistaken. The main goal for HISP was to get students into the main building because some of the modifications needed for safety weren't possible in auxiliary buildings.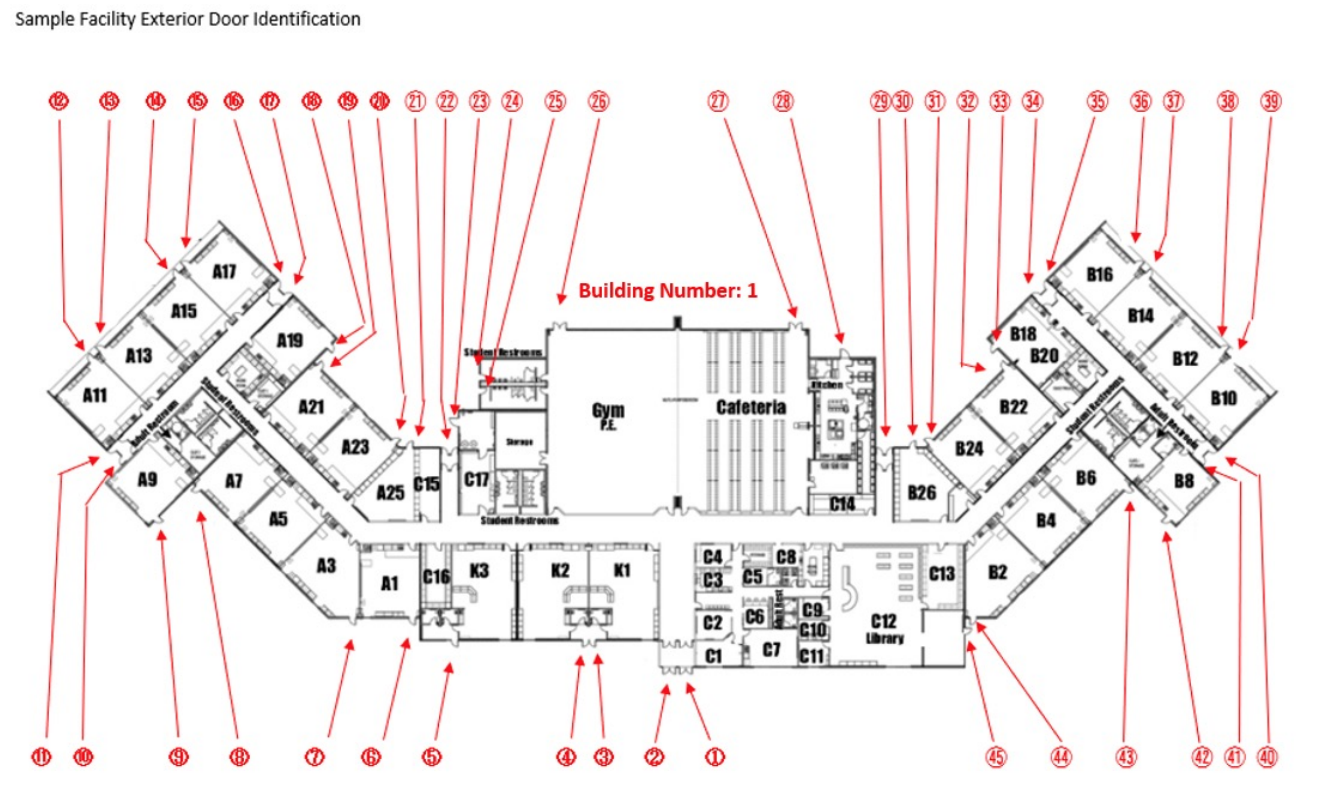 Securing Houston Schools with Technology
Technology plays a significant role in securing schools, and HISD implemented various technologies to keep its schools safe. One such technology is the access control system, which is installed on every campus. A phone allows individuals monitoring inside the school to view and speak with the visitor before allowing access to the school.
They also added a visitor management system, which requires all visitors to sign in and provide their driver's licenses. The system automatically cross-references the visitor's name with the Texas sex offender registry to ensure that no unauthorized individuals are allowed on campus.
That also applies to contractors. Not only is it important to know everyone who is on campus in the case of an emergency, but ensuring they aren't allowing predators on school campuses.
"As I looked at who was coming onto our campuses, I asked myself, is this who I want on the campuses where my grandkids are going?" said Jolivette.
"We're so used to working without all of the resources we need...but we still get it done."
She discovered one contractor where, out of approximately 100 resources, at least 85 should have never been sent to a school campus, alarming the district to do background checks on contractors. One contractor was on his fourth campus in one day before it was discovered he needed to be escorted off the grounds immediately.
"When you have a turnover of leadership in key positions, you tend to get away from the things you normally would do," said Paul. "And so one of the challenges and goals I have is that we build that infrastructure whereby this is just the way we do business and make sure these automatic things happen."
Eyes in the Sky (and on the Road)
Over 15,000 closed-circuit television (CCTV) cameras were installed internally and externally on all campuses, with audio coverage included in the special education classrooms. Additionally, HISD has installed cameras on its more than 1,000 buses to monitor activities inside the bus.
"I have certain expectations that I have as a COO," said Paul. "A lot of times that doesn't come with a bag of money, so you have to figure out how to get to where you need to be. We're so used to working without all of the resources we need, whether people or money, but we still get it done. If we have an event on a bus, I want police officers and our command center to be able to see inside that bus and know what's happening… we ask our bus drivers to be responsible for a lot of things, but that shouldn't be one of them."
That includes ensuring they cover blind spots and any other areas where bus drivers express concern. They also install security cameras with audio capability in special education classrooms, per a recent Senate bill.
Additional Safety Measures
Apart from the technologies mentioned above, HISD has also implemented additional safety measures to ensure the safety and security of its students and staff. These include:
Mandatory safety training for all staff
Required emergency operation plans
Required door sweeps
Partnerships with and inclusion of local agencies
Student and family support and services
Community involvement
Communication
Finally, HISD is committed to ensuring that all of its facilities are well-maintained and in good working condition. Out of over 11,000 work orders after the new mandate, all but 3,000 have already been completed. But safety is more than cameras, gates, and locks.
"How many times does a student come to school who doesn't have anything to eat? You think they're going to be safe and ready to learn? Absolutely not," said Jolivette.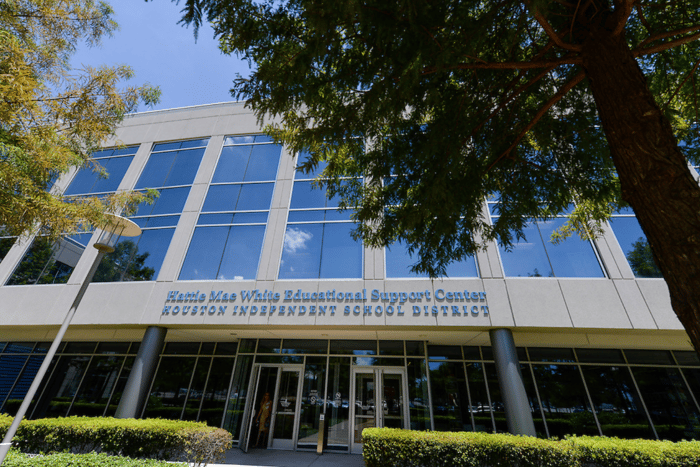 Putting It All Together
Basic respect and trust starts at the top and trickles down to managing those challenges many students and staff face, in addition to the heightened security risks facing them today.
"When you show people you value them, when you show people you respect them, and you put people in the right seats, you get a whole different scenario," said Paul.
Those relationships also extend to parents. The administration has a responsibility to communicate with parents and teachers so they understand safety measures.
"It's important to be truthful with your public, with your community," said Paul, who is no stranger to these situations after leading the West Palm Beach School District response when the Parkland shooting happened.
"When you're truthful with your parents, they understand these are the challenges, and this is what we're doing to mitigate them. There's no perfect solution here — walk into the storm and hang on."
"Teaching kids is our number one priority. But the other side of that is we have to do the best we can to support them."
Their kids all have cell phones and can call or text when something happens and they are scared. Communication is key to trust, and trust is key to keeping people calm in a crisis.
Diversity, equity, and inclusion (DEI) is just another term for good communication, noted Jolivette. Are the right people included in conversations? Are they involving students? How are they taking the temperature of their staff?
"Are you a thermometer or a thermostat? One you can control, one you can't," she said.
Jolivette also said she ensures her staff come to work not only physically dressed for the job, but psychologically "dressed" as well, wearing their internal "armor."
At the end of the day, while facilities holds the important responsibility for safety, academics drives everything, according to Paul.
"Teaching kids is our number one priority. But the other side of that is we have to do the best we can to support them," said Paul. "We have to be the support mechanism to help the superintendents make those good decisions, and in that supporting role we provide the best advice we can to that superintendent. The question should be, 'How can we work collaboratively together to get that best result?'"
While there isn't a one-size-fits-all solution for school safety and security, HISD's approach could be a model for other school districts to consider. All students deserve no less, and every community should have equitable resources.
"When something happens in a certain part of town, people are not surprised about it, right? When it happens in the Black and brown community, we expect that. When it happens in a more affluent community, oh my God, the world ends," pointed out Paul.
"We should care about all kids, and the fact that it should not be happening anywhere."
Join us at the K12 Facilities Forum!
The community for district and facilities leaders
Nov 12-14,2023 | Austin, TX
Learn More