As retirement gets pushed back and Millennials enter the workforce by the millions, thousands of offices have an unprecedented age range of staff struggling to communicate effectively.
And while a lot has been written about Millennials in the workplace (They're impatient, they need constant feedback, etc.), there's another significant influx that's received less attention—Gen X'ers moving from middle management into the C-Suite.
They bring the focus and work ethic of the baby boomers, but sometimes check their manners at the front desk. Unfiltered opinions are the norm.
"Gen X needs no help with candor; they're allergic to sugarcoating," says workplace and marketplace trends researcher Kim Lear, founder of Inlay Insights. An author and in-demand speaker, this kinder/gentler Millennial (a native of "nice" state Minnesota) not only understands what motivates her generation, but older and younger employees as well. She shared her thoughts on workplace styles at the Higher Education Facilities Forum.
A Deeper Understanding
Lear has made it her business to understand the way generations of American culture think, act and communicate. Her analysis is wry, but her approach positive. Each generation of the workforce has strengths and work styles that can be optimized. And while each age group responds to different motivating factors, the American work ethic is present in each generation. As she describes the behavior of Traditionalists (aka, Tom Brokaw's "The Greatest Generation"), Baby Boomers, Generation X and America's 82 million Millennials, the word "lazy" never crops up.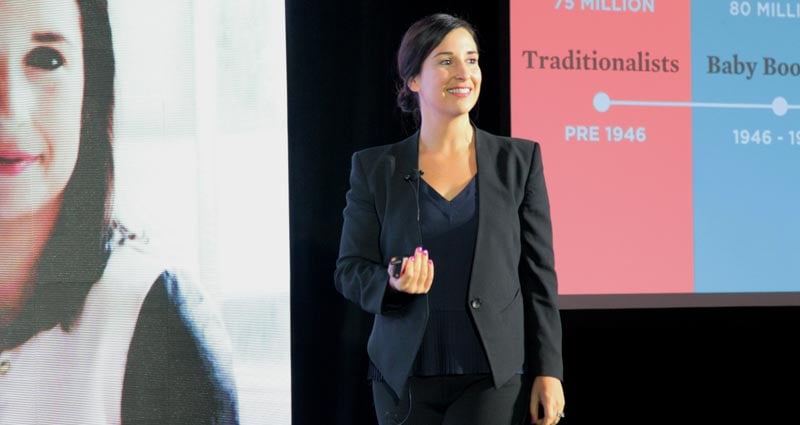 A few highlights from Lear's analysis of the three older generations:
Traditionalists. Born before the mid 1940s, almost half the men from this generation fought in either the Korean Conflict or World War II. A generation nurtured to sacrifice for the greater good, as a demographic they're also very loyal to country, employer and brands. "My grandfather sold Chevys and I wasn't allowed to date boys who drove Fords," says Lear. Although traditional in many senses of the word, members of this generation were and are more willing to make business decisions based on instinct, without crunching loads of data first, like their younger counterparts.
Boomers. Born during the U.S. population surge after World War II (it officially ended in 1964), the Baby Boom generation developed a strong work ethic and emerged during a time of social upheaval. They can take credit for many of society's changes for the better, including civil rights legislation and a push toward women's equality. Because there were so many boomers, they became incredibly competitive and resourceful as they aggressively competed with each other for jobs and promotions. This generation developed the art of communication and learned early how to "master internal politics," says Lear. "They also mastered the art of getting something done."
Generation X.(perhaps first identified in Douglas Coupland's 1991 novel Generation X: Tales from an Accelerated Culture), grew up with the Cold War, Reagan, MTV, the birth of CNN and the dawn of 24-media. Weaned before the days of commercial-free television, they watched thousands and thousands of ads growing up, which made them "a very skeptical generation," she says. Many Gen Xers grew up as latchkey kids, or the children of divorce, a dynamic that made them self-reliant and fiercely independent. "The first generation told they (probably) won't do as well as their parents, they're usually great champions for change," Lear says. "They have a healthy amount of 'angsty' dissatisfaction."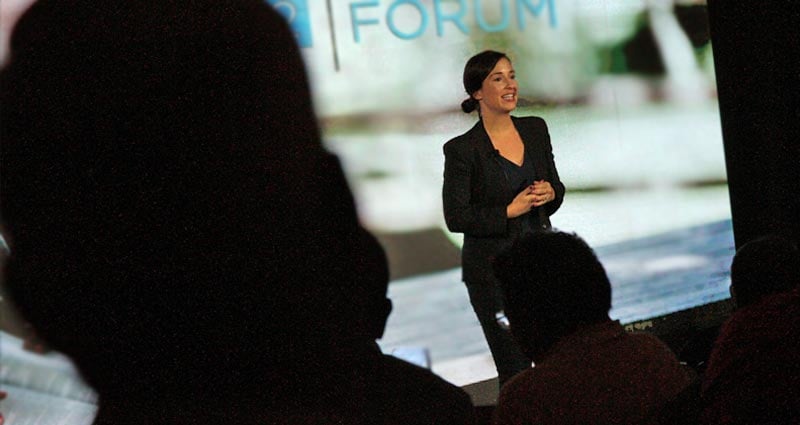 Millennials Want to Know Why (Why Why)?
While cranky Gen X'ers want to "go off by themselves and get things done," Millennials (born between 1980 & 1995) thrive on working collaboratively and discussing options. Raised during an era of constant tech upgrades, they're also extremely impatient for professional advancement, Lear says.
"Millennials want to be boss immediately; they're used to life moving at a rapid pace."
One example of "everything old is new again" – after a few generations that couldn't wait to leave home, believed they could do better than their parents, and chose Presidents, athletes, astronauts and entertainers as their role models, Millennials often live at home well into their 20s (though, certainly, student loan debt plays a key role) and overwhelmingly choose "mom and dad" as their role models.
And because they can rely on their family as a financial as well as emotional "safety net," they're less motivated by a paycheck and more focused on finding careers that are both intellectually challenging and allow them to make a difference in the world.
About 39% of Millennials still receiving financial assistance from their parents.
Adapting the workforce to this generation's approach is essential, says Lear. Why? Because, "By the year 2020 half of America's workforce will be Millennial."
Millennials do have a strong work ethic, she says, but they need more than a paycheck to kick it into gear. While their Baby Boom parents frequently applied a nose-to-the-grindstone approach to jobs they hated, Lear says their children take it heart when their parents warn them:
"If you're going to work as hard as I did, make it count." Hard work for the sake of hard work doesn't cut it for this rising generation.
Converting Complaints Into Action
Lear admits that Millennials are often more outspoken than their older superiors would like – they're used to having parents, guidance counselors, mentors and others who listen to them and take them seriously. However, their need to express themselves can be channeled effectively.
She cites one company's intelligent response to Millennial complaints—they give the whining an impactful structure.
Once a quarter leadership trainees are invited into the boardroom and given just 10 minutes to identify a problem and then a generous 50 minutes to provide a workable solution. Encouraging these aspiring leaders to problem-solve – not just identify what's wrong – helps push them to the next level.
Kim Lear's Takeaways for Working with Older/Younger Generations
As retirement gets pushed back for more of us and tens of millions of Millennials enter the workforce, many organizations have an unprecedented age range of staff struggling to communicate effectively. Kim has a few coping tips.
For gentle souls just entering the workforce, brace yourselves. The forty- and fifty somethings known collectively as "Generation X" tend to shoot first and ask questions (like "Why are you crying?") later. Though they often talk without a filter, they usually mean well and you almost always know where you stand with them.
Baby Boomers and Gen X'ers have that much-vaunted "can do attitude." But, like animals that sneak off to bear their young, they tend to prefer the process of creation and problem-solving alone or in small groups.
Meanwhile, Millennials love to "spitball" – working in groups and sharing ideas while someone writes it all down on a whiteboard.
Finally, ignore the rumors. Millennials will work their butts off for an organization or a cause. However, unlike older generations who worshiped at the altar of work for work's sake, Millennials need to ask lots of questions first. Once you've isolated their "why," they're ready to give it their all.
Join us at the K12 Facilities Forum!
The community for district and facilities leaders
Nov 12-14,2023 | Austin, TX
Learn More