It's no secret that there's a significant staffing shortage in the facilities management industry.
With 50% of the workforce set to be made up of millennials by 2020, school districts can no longer afford to misunderstand the largest living generation.
The most educated generation to date, this group's unique qualities and ideals are a result of a number of factors: 24/7 technology, social media, emphasis on teamwork, excessive parental supervision, and data overload. The over-education of millennials, however, has led to a troubling shortage of newcomers for the facilities and operations field.
The demand for facilities jobs far exceeds supply, and making this problem more urgent is the higher-than-average age of FM professionals (49 vs. the national average of 43).
With a strong need to recruit the next wave of leaders among this aging workforce, we spoke to school districts across the country about how they're handling the staffing crisis with the question: "How is your district recruiting and developing facilities staff in this unique economy, for both experienced and entry level roles?"
In essence--how can soon-to-retire Baby Boomers pass the torch in confidence?
A Widening Talent Supply Gap Spells Trouble
As the facilities world has slowly adapted to technology and new challenges, the range of services under the FM umbrella has become more complex and diverse. While this presents an exciting opportunity appealing to a broad number of skill sets, a lack of clear identity in the field persists. Without an understanding of what the job entails, it remains less likely to attract young people who already are dealing with an uncertain future.
To bridge the talent gap, raising the profile of facilities management is essential.
Although skills learned in science, engineering, and technology prep students for success in FM, few are considering a career path. In fact, research from JLL shows just 1% think they will enter a career in FM. JLL's research also shows that the 43% of Millennials that are "aware" of the field have a fuzzy understanding of what exactly it entails.
While some envision a glorified janitor role, and others had no insight at all into the role, this data reveals that students are unaware of the broad scope of services and skills facilities leaders offer. As real-time data and technology allows facilities leaders to initiate better decision making, the role is becoming increasingly strategic. The bottom line:
Millennials aren't aware they have skills and jobs related to FM, limiting their potential opportunities in the field.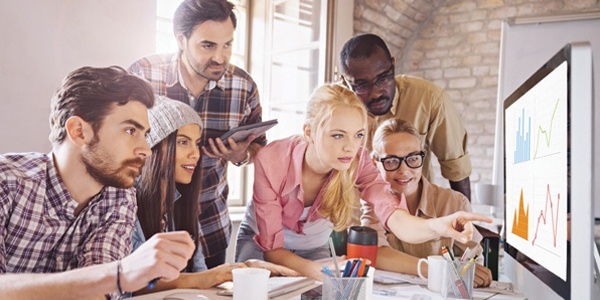 The district administrators we spoke to had two things in common, regardless of enrollment:
1) Staffing is a current challenge
2) The majority experienced great results from internship and apprenticeship programs.
"We're doing an internship program with our Career and Tech Ed folks where we pair students with our trades staff, working in our buildings after school hours, and now during the summer," said John Shea, Chief Executive Officer, Division of School Facilities at the New York City Department of Education. "They get paid, and gain experience towards a union apprenticeship program. We've already had a few get their union cards, and we hope to hire them as full time employees in the future."
Keith Scroggins, Chief Operating Officer at Baltimore City Schools, also echoes the importance of internships and reports that the district has had great success with local job fairs. "Our job fairs have brought hundreds to us in search of employment with a variety of skills," he said.
Still, despite the successes of internships and job fairs, the talent gap creates a headache for many.
"The simple fact is that there are far more open positions than there are available people interested in applying for them," said Mike Wilson, Director of Facilities for Warren County, Kentucky, whose district has turned to outsourcing custodial services from a third party firm for its largest buildings.
Our conversations with various leaders made it clear that attracting millennials was an industry-wide challenge...so we compiled a list of quick guide to recruiting the next generation of talent.
Here are 8 key insights to consider to attract & retain young talent:
1) Must Embrace Technology
Millennials are the first generation to enter the workforce as digital natives. This presents a unique situation as new employees start their career better-versed in technology than many higher-ups. Is your organization using this 24/7 connection and digital savvy to its advantage?
How to Capitalize:
Social media recruiting

Up-to-date websites with online resources and valuable content (a creation of a "jobs" page is essentially free advertising)

Providing workplaces that prioritize embracing the latest technology
Enable quick, mobile-friendly online applications to promote job openings on sites like Facebook, LinkedIn, Twitter, College Recruiter, Glassdoor, etc. This generation expects quality websites with rich media (think visuals and videos), responsive design, and shareable social links.
Scott Layne, Chief Operations Officer at Dallas ISD, said the district uses a number of job databases to attract and identify potential candidates: Texas Association of Business School Officer, Indeed.com, Education Week, Top School Jobs, General Educational Development (GED online test services), American Association of School Administrators, and Texas Workforce Commission.
2) Millennials will move on rather than stagnate
Data shows that career progression was ranked as a main attractor to an employer--ranking higher in importance than a salary! Millennials grew up in a constantly stimulating world full of "upgrades" at every turn, and will keep job-hopping until they find somewhere they can grow--and Deloitte's survey shows that two-thirds of Millennials plan to have a new job by 2020. This presents an enormous opportunity…
How to Capitalize:
Clear-cut growth/development plans for entry-level employees

Orientation that provides a sense of company's mission, values and culture (and where the new employee fits in)

Formal and informal mentorships

Training programs and continuous certification opportunities

Internships with possibility of employment for top-performing interns
Dallas ISD is one school district that recognizes the value of leadership development opportunities, with Layne explaining that two different programs "are structured as cohort training that aims to cultivate leadership skills at all levels of the organization; one offers job specific trainings to entry level staff."
3) Purpose over Paycheck
This generation wants to feel they are contributing to something larger than themselves. They also want a work culture that promotes mental well-being. 56% said they would take a pay cut to work somewhere that's positively changing the world, and 84% said helping to make a positive difference is more important than professional recognition.
How to Capitalize:
Take service outings as a company (they love team-building). Even better if you promote it on social media.
Charity or "give back" programs

Promoting organizational purpose/meaning

Employee initiatives that encourage work-life balance

Focus on sustainability and wellness, prioritizing eco-friendly options
When it comes to promoting purpose in facilities management, Ron Bordelon, Chief Facilities Officer with Louisiana Recovery School District, mentions the importance of communicating the "public service" component. In an industry that ultimately provides safe learning environments, there's enormous potential to communicate value; internally, promote a culture of recognition.
"The core focus of people, process, and educational impact drives recruitment/development of staff on many levels. Establishing a supportive departmental culture using a servant leadership model allows for a stimulating, innovative opportunity that promotes interest in public service," Bordelon said.
For Scroggins, a key strategy is to communicate the benefits offered. "What makes us competitive is that we offer full benefits, which can be more valuable than our salaries. The private sector offers higher salaries but limited benefits."
4) Collaboration is key
Raised with group projects, extracurriculars, cluster desk-seating and social media, this generation had exposure to teamwork early and often. They don't want to be the boss, but simply want their voice to be heard-- and a Millennial Inc. survey found that over half prefer to make decisions via office consensus.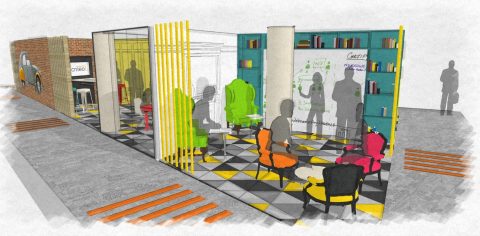 How to Capitalize:
Environments conducive to open collaboration (such as a weekly roundtable discussion)

Management style that is receptive to ideas from all levels

Enabling diverse cross-functional teams

Allowing customers to have more active participation in FM (also raises visibility, therefore reaching younger generations)
5) Digital natives doesn't equal digital addicts
Many assume millennials prefer a screen to humans, but research shows that this generation places a premium on personal interactions. Only 31% of recent grads feel that companies properly integrate new employees--so standing out as the exception to the rule is an excellent way to retain young talent.
How to Capitalize:
Campus recruiting & job fairs

Onboarding programs that mix online modules with hands-on human interaction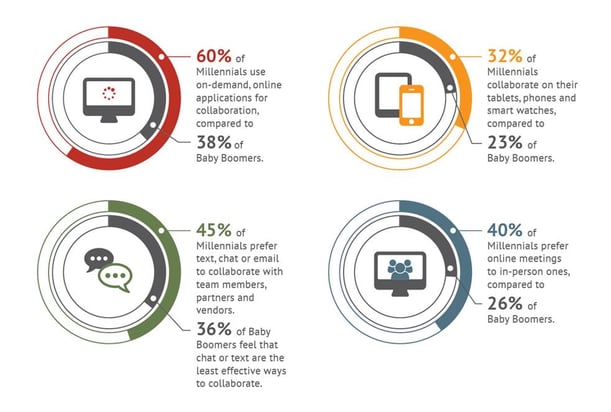 Caption: Differences in Millennial & Baby Boomer habits via KaviWorkspace.
6) They Don't Trust You...
Millennials are less trusting than any other generation: just 19% believe people can generally be trusted, compared to 31% of Gen X and 40% of Baby Boomers.
How to Capitalize:
Build a culture of transparency. Outline job expectations and opportunities for progression up front.

Be timely, truthful and responsive in dealing with customers, the press and social media.

Strong communication can break down distrust or confusion. Customize communication by using apps/platforms that are open, accessible and easy to digest. Speak in their language: aka make it personal, genuine and colloquial.
7) They Actually Want Your Feedback.
Research shows more millennials are engaged in their jobs when their manager holds regular meetings with them and provide consistent feedback. What's more, Millennials expect close relationships and view their managers as coaches and mentors--positive relationship with a boss manages millennial retention risk.
How to Capitalize:
Don't ghost them! Millennials grew up with an emphasis on team sports and constant coaching: Schedule regular feedback for employees. It can be as simple as a quick email.

Establish employee mentorships; consider incentivizing older employees to advise a millennial and better yet show them the opportunities for advancement.

Initiate an open-door policy to encourage enhanced communication.
8) They Love to Be Heard.
Millennials are an open book when it comes to sharing online. From declaring love for each other on Instagram to raving about a brand they love, a new study shows happiness is the main driver behind online sharing. However, Millennials are also most likely to leave a review or recommendation online to save their peers from the the horror of a bad experience.
How to Capitalize:
Give them something to rave about--and encourage employees to post testimonials about their positive experience, whether it's on Glassdoor, Linkedin or your company website.

Creating a "work family" online network, customized hashtag, or creative campaign--anything for Millennials to truly connect to-- promotes loyalty and online sharing.
For districts facing the looming retirement of Baby Boomers, appealing to Millennials is essential to closing the talent gap. Plus, as rapidly-advancing technology and automation transforms the way the field of FM operates, generational diversity is the key to the future as facilities management changes in diversity and scope.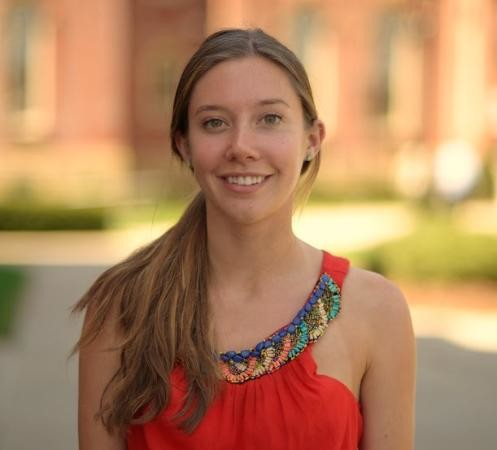 Posted by
Hannah Chenoweth is a writer for influence group. Passionate about collaborating with thought leaders in real estate, design, construction & facilities management.
Join us at the K12 Facilities Forum!
The community for district and facilities leaders
Nov 12-14,2023 | Austin, TX
Learn More