Most people intuitively understand the "why" behind biophilic design, which is the practice of incorporating nature into architecture. The idea that humans have a deeply ingrained attraction to the natural world isn't necessarily radical.
However, what is radical is the power of biophilic design to specifically help students with autism thrive, transforming the learning environment and experience from frustrating to positive.
Nowhere is this more apparent than the 80-acre, $75 million Raymond and Joanne Welsh Bancroft Mount Laurel campus, which opened in January 2018. The New Jersey-based campus set a national precedent when it comes to design that accommodates those with autism. We spoke with the architect behind the project, Merilee Meacock of KSS Architects, about how biophilia influenced the campus design, plus how facilities leaders can apply these principles in their own schools...
The Advantages Of Biophilic Design
Biophilic design strives to connect people to nature in the buildings where they live, work, and play. It's not just adults who have become indoor animals; today's children are nature-starved on record levels. Research shows that simply taking a walk in the park can boost the concentration of children with ADHD, and these behavior-modifying effects extend to kids with autism as well.
"Students with autism are far more sensitive to temperature, noise, texture, and acoustics; these factors become stressors that affect the learning experience. As designers, we understand that the built environment really impacts human behavior. While biophilic design principles benefit everyone, they can really be harnessed to address issues symptomatic of students on the spectrum," Meacock shared.
Photo courtesy of KSS Architects.
Biophilic design involves the application of diverse design strategies. There are 14 patterns (you can think of them as principles), which offer a series of tools to articulate and apply each of the individual elements of biophilic design to the built environment. Not every space can incorporate all 14 patterns, and it's not meant to be adhered to as dogma but rather to guide the design process.
"The cognitive, physiological and psychological benefits of biophilic principles range from increased satisfaction and motivation to less stress and anxiety and improved problem-solving and creativity," Meacock said. "Positive behavioral changes include improved coping and mastery skills, enhanced attention and concentration, lower hostility and aggression, and improved social interaction."
Bancroft's Design Features
The Bancroft Mount Laurel Campus isn't just a school, but also a residential center that contains clinics and a community center. From the get-go, the team was intentional about designing the campus to feel like a home rather than an institution.
'Prospect,' defined as 'an unimpeded view over a distance for surveillance and planning,' is one of the patterns of biophilic design that was embraced in the site selection.
"The concept of prospect considers basic human safety and comfort—from hunter-gatherers surveying the landscape from a rock outcropping, to a lighthouse-keeper in a safe harbor, to a farmer admiring the beauty of rolling pastures from a copse of trees, it allows for unobstructed views of nature and clear lines of sight," Meacock shared.
The team chose an 80-acre site surrounded on three sides by rolling fields and forests. (The fourth side had a corporate office with valuable work-study opportunities for students.) Beyond the views, the campus is also connected to the surrounding environment via a nature trail, streams, and a pond.
The use of natural materials, like wood, is another important aspect. Meacock shared that the use of natural materials has a positive effect on student engagement, attitude, and concentration. However, there are special considerations when it comes to designing for students with autism that school administrators must be aware of.
Because of motor skill challenges, finishes must be super-durable and easily cleaned. To reduce the opportunity for accidents, the team choose wood for the ceilings and went with durable vinyl flooring. Bancroft's design also leaves more generous space for students to navigate, orient and transition.
"Wood has a warm, comfortable connotation," Meacock said. "It's proven that biophilic design principles reduce your heart rate and allow you to focus--it even enhances creativity because you feel safe and your mind is permitted to wander."
Meacock shared that people with autism have a real love of patterns and repetitive, cyclical motions, like bikes and swings, and encouraged facilities leaders to incorporate these elements when possible. "Patterns and repetitive motions really benefits their behavior in terms of positive reinforcement," she said.
Meacock's team used biomorphic patterns (color coding, roof gable shapes, and both micro- and macro- scale details) to help provide clear, multi-sensory wayfinding and orientation cues. Layering in these details caters to how students with autism perceive space, helping them feel independent as they explore the campus.
Water is another popular design element on Bancroft's campus. "People with autism love the sound and feel of water, and adore playing and splashing in it," Meacock said. "That's another pattern in biophilic design; water plays a big role in nature, and resonates really well with everyone but specifically students on the spectrum."
Photo courtesy of KSS Architects
'Risk and peril' is another pattern displayed in Bancroft. The desired effect here is a sense of exhilaration through the intrigue and exhilaration of an implied threat. While this might sound scary or confusing, it's really about helping students tackle challenges safely, in turn growing their confidence and competence. At Bancroft, interior and exterior playgrounds with climbing opportunities that instill strength, confidence and accomplishment.
Other Design Considerations
Meacock encourages schools to consider building in soft spaces. These are flexible areas outside the classrooms where students can work on other exercises. (For example, if it's close to spring break, teachers might set up a mock X-ray machine in a soft space to expose and prepare the kids for what they might go through at the airport.)
"In our research, we found that 70% of human learning happens outside classrooms in places like playgrounds, sports fields, or libraries. Those soft spaces between classrooms are so important because they're used for experimentation, celebration, and innovation," Meacock explained.
Meacock also emphasized the importance of designing for adaptability. "Despite commonalities, it's important to remember that there's diversity across the spectrum, from motor skills to preferred communication methods. Each individual has different triggers and learning requirements, so that flexibility really needs to be built into the learning spaces."
Take light, for example; students with autism have difficulty processing what may be considered a moderate level of light, but it varies depending on the individual. Providing access to natural light as well as the ability to filter and adjust the brightness and views (via movable shades and translucent screening) helps minimize sensory overload.
Conclusion
"When it comes to connecting with students with autism, there are entire worlds that can be opened onto by engaging with all the senses - sight, yes, but also smell, sound and texture" Meacock said.
"We used the strategies of biophilic design to truly create a beneficial experience: the ideas of connecting to nature, beautiful views, daylighting, natural materials, hearing the water ripple, feeling the soft flooring under your feet, seeing the beautiful wooden ceiling, and so on."
It's clear that biophilic design offers a powerful opportunity for addressing issues associated with autism and helping these students reach their potential, and the landmark Bancroft Mount Laurel campus provides a host of lessons for school districts in doing so.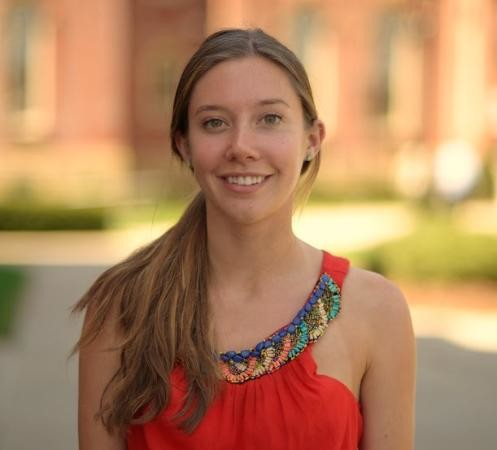 Posted by
Hannah Chenoweth is a writer for influence group. Passionate about collaborating with thought leaders in real estate, design, construction & facilities management.
Join us at the K12 Facilities Forum!
The community for district and facilities leaders
Nov 12-14,2023 | Austin, TX
Learn More